Sitting in a hotel bar in downtown Lisbon, bored and half touched by alcohol. My friends on the way home, husbands, children, jobs from 9 to 5. I picked up my cell phone and made a post asking who would buy me a drink. Answers more than many. I chose the first one, without thinking too much, new, military, looking like a bad boy. I sent my location.
I ordered another Long Island Ice Tea. I went to empty my bladder and touch up my makeup and hair. She had on tight black cycling shorts, Fendi boots, and a long Slipknot sweater. I was sporty.
Yuri arrived roughly 20 minutes later, me sitting cross-legged. Black coat, dark green polo, ripped jeans, neatly trimmed barber beard, cut on eyebrow. Tall, strong body, dark, green eyes.
- Madam?
- Is the boy going to buy me a drink? - I asked looking him up and down.
- I am. - he ate me with his eyes. I felt the cunt tremble. I was reacting.
He sat at my table. He looked at the drinks menu nervously. He was much younger than me.
- What are you drinking? he asked, his voice husky and sensual.
- Long Island Ice tea. - I replied, the straw between the painted lips.
- Don't you want a whiskey? So we drink the same.
- Ask...
- Treat me for yourself, ma'am.
- Okay, Yuri. Order the drinks, I want to be out of here in 10 minutes.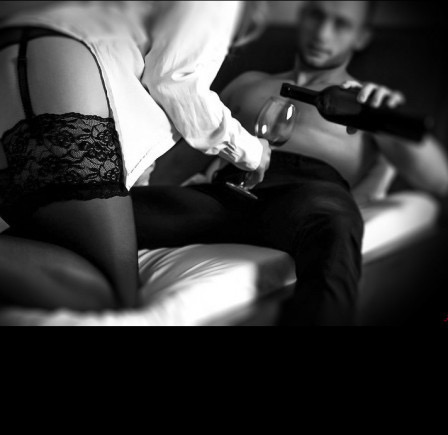 The waiter came, we ordered two whiskeys on the rocks. He told me how he had discovered my page. I laughed. I shook his hand. I got up from the table, went after him and asked him very softly in his ear:
- You wanna fuck me hard in your car, Yuri?
- That's all I want, ma'am.
- So drink this shit and let's get out of here.
He drank the whiskey in one gulp and went to pay. I kept playing an ice cube to my lips.
I grabbed my suitcase and followed him to the parking lot. When we got to his car, a Toyota, I looked around and pulled my tight shorts down my legs. Just wearing a thong under the long heavy metal t-shirt. I got up and showed him my pussy through the stray panties. He felt his dick through his jeans, the volume clearly visible.
I got in the car and kissed him, licking his beard. I felt his hard cock.
- Let's go to Santos, on the other side of the train line.
- Madame sends it.
- I know, Yuri, I know.
The path was made to the sound of Brazilian funks, I sang and danced for him and sucked his fingers in the signs. He already had the fuck out of his fly. I moved here and there.
We parked next to Barrio Latino. He reclined the stool and I began to make him a brave brooch.
- Is this what you wanted? - I asked with the stick in my mouth.
- Suck it, ma'am.
- Fuck my mouth Yuri...
He didn't act begged. He took my blond hair and started using me like I was a sex doll.
His fingers found my wet pussy and began to penetrate me. I moaned as he sucked. He took off his coat and polo. What a body, what sit-ups. Tattoos glistening with sweat. I licked it from top to bottom...

To be continued...


A drink with a fan