I did a tinder match with 45-year-old J. We start exchanging banal messages until she asks me what I'm looking for there. I took a chance: some good fucks. Answer: brave. I like that. We are in tune.

We were exchanging messages to know what the other liked, limits and fetishes, until we realized that there was harmony. We agreed that I would go to her house for dinner after Christmas.
Yesterday I caught Uber and went. When I arrived I realized that the photos didn't do it justice. The tight jeans showed off her thick thighs, the black velvet top left her big tits almost exposed, and the sandals exposed some of the prettiest feet I've ever seen. She noticed and with a mischievous and warm smile commented: you weren't waiting, were you? No, nothing. Your photos don't do you justice.
We cooked dinner together, I took care of the steaks, she the sides, as we exchanged increasingly hot kisses. We had dinner and sat in the living room listening to music and watching a series on television. We were hugging, kissing, exchanging caresses until she gets up, takes my hand and leads me to the bedroom. She pushed me to the bed and began undressing me until I was left in my boxers. She kissed me, sat on the bed and stretched out a leg. I took off her sandal and kissed her instep. I repeated it on the other leg. I pushed her back gently, unzipped her pants and took them off. Her lingerie was red and see-through. I kissed the inside of her thighs and lifted her up. I kissed her mouth and took off her top and bra. We lay down on the bed and went back to kissing. Her tongue wrapped around mine. My mouth travels down her body to her breasts and I nibble her nipples. J lets out a moan of pleasure. My hand moves slowly down to the top of her panties and I begin to massage her clit as I lick her nipples. I stop and sit on the bed. I pick up her feet and start licking the plant and sucking her toes. J starts touching herself and sucking her nipples at the same time. After delighting myself with her feet I start climbing up my legs. I take off her panties and start licking her shaved cunt. Her honey is sweet, which only makes me lick it with more pleasure. My tongue fixes on her clitoris and I slide in two fingers. The combination of my tongue on the clitoris and my fingers makes J come in an instant.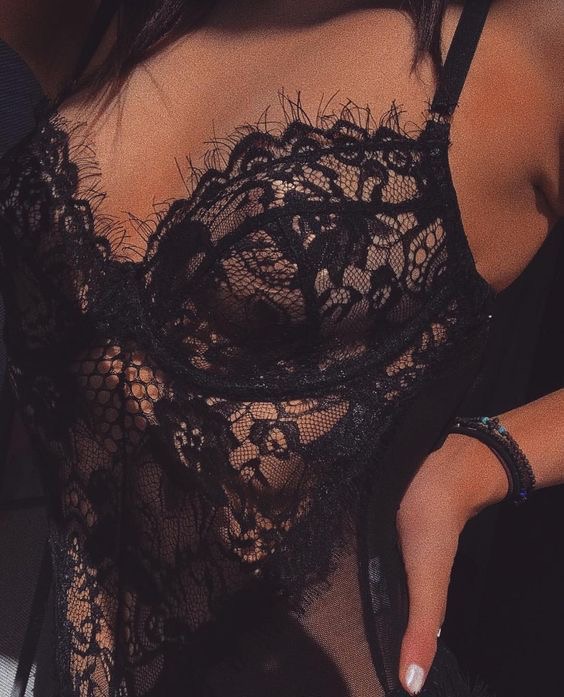 J looks at me mischievously and says "now it's my turn". Start by taking off my boxers and licking my tomatoes. She starts to climb and her tongue runs over my cock. Without warning she pops it all into her mouth and licks my tomatoes. His hot, wet mouth makes me harder and harder. Stop sucking me, she lies down with her head off the bed. "Fuck me in the mouth" she asks me. And I fulfill the request. I enter her mouth slowly but all the way. I want to feel her choke before I fuck her in the mouth for real. I feel the contracture in my throat and I start to fuck her mouth with pleasure. The dripping drool lubricates my cock and her mouth and penetration is easier and easier. J's hand starts to move towards her cunt but I stop her and pull out of her mouth. I kiss her. Her mouth is hot and delicious. I put her on all fours on the bed and start licking her ass. "Now you can touch yourself" I say before starting to lick. J reaches out and takes something off the bedside table. She continues to lick until she tells me to stop and presents me with a black butt plug. "Pick me up your ass and fuck me" she asks me. I put the plug in her ass slowly, lay her on her back, and go inside. She moans in pleasure when she feels me all inside her. The hot, wet pussy is inviting. I start to fuck her as I kiss her and squeeze her nipples. The feel of the butt plug on my cock is delicious. I pick up the pace and pull her feet up. I lick them again and J starts touching herself. Let's look at each other slyly. "Get on all fours," I tell him. She puts it on and I go back inside. I stop. I run my hand over her ass and ask "May I?" "must!" she replies. I land a good smack on each buttock and she moans in pleasure. I go back to fuck her and she continues to touch herself. "I want to come before you fuck my ass" she tells me. "It's not a problem" I answer him. I increase the pace and feel myself getting wetter until suddenly she contracts all the way, the plug comes out and she lets out a wet, pleasure-filled moan. Before she asks, kiss her. I take the plug out of the bed, and stick the cock in her ass. Her ass is wonderful. I take her hands and start fucking her. My ass relaxes with each thrust I make. I let go of her hands and grab her around the waist. I increase the pace and feel it play again. "Don't stop touching yourself," I tell him. I pull her to me and kiss her while I fuck her ass. I feel her contract and moan again. "Other?" She answers me by putting her fingers in her pussy and putting them in my mouth to taste. Her honey is sweet. I suck on them with pleasure. "Do you want to come now or do you want to hang on a little longer?" she asks me. "You're the boss. I'll do what you want" I reply. "Then fuck my ass a little longer and then let's go to the rest of the games" she tells me. She gets back on all fours, and I go back to fucking her. The thrusts are getting more intense but I'm still far from orgasm. J keeps touching and holding on until she comes again. "Go out and get water for water, please" she asks me.
When I return, she looks at me with an air of mischief and desire. "Shall we go to other games?" she asks in a wet voice. "Lie down, spread your legs and give me the lube" I reply trying to hide my enthusiasm. I put a dollop of lube on her pussy and ran my hands to get them covered. I started by putting two fingers in, then three, and worked to open her cunt. "Can I put the 4" I asked. "Now you're the boss" answers J in a voice full of pleasure. I put my 4 finger in and continue to masturbate her. "J, I'm going to finger 5" warning after a few minutes. I continued to masturbate her until I feel another orgasm. "J, I'll stick my hand in. Are you ready" I ask. "Slow down, I'm about to come again" she tells me. Slowly I get my thumb in and I start to apply some pressure to get my hand inside her. She changes position and my hand is almost sucked into her. With my free hand I masturbate her a little. "J, can I put it on and off?" I ask. "You can do whatever you want as long as you give me pleasure" she replies. I take my hand away, rub it in her mixture of lube and honey, and start putting it on and off. One hand entering and the other hand jerking her off. J can't hold out for long and has another orgasm.

She takes my hand out of her and licks each of her fingers with pleasure. "Sit on the bed" she says to me "I want you to come in my mouth". I obey and she starts sucking me. The pleasure that her tongue curled around my cock provokes, the excitement of fisting and the knowledge of what's next make my mouth quickly fill her mouth with milk. J swallows everything and kisses me on the lips. She takes my hand and leads me to the bathroom. "Lie in the bathtub" she asks me. I lie down, still ecstatic from the orgasm, and she positions herself on top of me. "Ready" she asks her. "You just do it," I reply. And J starts giving me a golden shower. The excitement is such that I am hard almost instantly. She ends up and kisses me. "Wash yourself and meet me in the bedroom. I want you to fuck me again.

Confessions of a Madame Luxúria fan.