Sex and espionage

"You look amazing," Teresa says, her hands on her hips in short leather pants that barely brush against her buttocks. Only Teresa could wear something like that and still look elegant.
I look at myself in the mirror, but the girl looking at me in a glued dress festooned with smoky eyes and a huge dryer looks like a complete stranger. I never usually wear makeup, that's not my face and it's definitely not an outfit I would choose for myself. But that's the desired effect, I don't want to be Cristina tonight. I want to step into someone else's shoes.

"Comeon, let's dancer," Teresa says, pulling me into a tiny space directly in front of her line of sight. We started writhing to the sound of house music.  Not my cup of  tea, but now, if I could, I'd be curled up on the  couch with  the real tea watching the X Factor and not here, in  17cm heels that are already killing my  feet. 

We put on a good show by being  the kids at the party and dancingwith some of the guys that go around us.   Teresa seems to be really  enjoyingherself, but I don't have the patience for it, I keep looking at him. Before long, I feel his eyes on me, and yes, a spark of victory emerges from within. One of his friends comes straight towards us and  Teresa quickly leaves him in a trance, his thin arms around his neck. I want to end this and address it first, but we've already talked about it, it's important that it comes to me. You can tell he's the kind of man who likes to get what he wants.

Teresa curls up in her mate and I'm standing alone for a minute when I feel a hand on my waist. I don't even have to look back to know it's him and I'm surprised to feel a wave of electricity crackle in the spot where he's touching me lightly.

"You're a great Rin Dance," he says in a harsh tone. "Champagne?"
I tap my eyelashes and pretend to hesitate. "Only if my friend can join us," I reply, looking at Teresa.
"Sure," he says. "The more the merrier. Dani, seem take a glass."
He takes  my hand and leads me to  his table, where a bucket of ice and a bottle of Laurent Perrier await me. Three girls are already leaning against two men on the velvet couches, but instinctively make room for Marco.
He pours a few glasses to toast: "Tothe most beautiful women in the room." Inside, I'm rolling my eyes, but I do my best to laugh and pretend to blush.
"Mark Antony," he says, offering me his hand. What do you call yourself?"
"Anabela, but my friends call me Belle," I replied. Because I'm not Cristina tonight. Tonight, I'm Anabela, and I'm here to put this man behind bars.

"My God, he's foolish with you," Teresa says from the  bathroom cubicle. Andyou've been talking for hours."
I reapply my lipstick and wait for a group of girls to stagger.
"I can't get him to dance," I say, tasting the hand cream and avoiding her gaze as she looks at me in the mirror. "He says he never dances. What is he doing here four nights a week,  in this place, if not dancing?"
"Hook up cute girls like you!" she replies. "I don't care about mine, he's a fucking grunt, but I think he's really cute. So... how's Marco?" She whips me on the arm with one of the white hand towels. "Do you feel comfortable going through this?"

The truth is, I'm more than happy to continue flirting; I'm incredibly attracted to him. Not only is he gorgeous, with his intense green eyes and warm body, but whenever he touches me I feel a rush of desire. I shouldn't have taken this job when I haven't had sex in six months. I lasttime with my ex and it's no surprise that it wasn't particularly memorable.

"He's fine, he's really smart," I reply.
"Listen, he's wanted for money laundering and five counts of fraud. They arrested him seven times and still haven't been able to charge him with anything. We wouldn't be here if he wasn't smart."
"I know, I know, I meant interesting. I didn't expect it to be so interesting."
"I can't say I blame you, Belle, he's a brat."
"yes, yes, come on, I want to dancer," she says, pushing me out the door, then muttering softly. "Look, if you can get anything out of it, it's the same for me as long as we get the job done."

She pulls her friend back to the dance floor  and I sit down next to Marco. He's talking to me intensely about the house he designed; He is clearly passionate about architecture. It's all going right   through my head, because all I can think about is the feeling of his leg resting against mine and his hand that continues to briefly caress my arm, sending tingling sensations  straight through me.

"That sounds amazing,  you're lucky to have such a unique home." I'm looking for something to say to hide that I've been tracing the line of defined muscles in your arms.
"Seem see.  I want toshow you, let's go now," he says. It's what I expected, it's why we're here. I thought he'd be despicable and that I'd play the part of an idiot, but he's enigmatic, excited even.

"I don't know... "Don't act too excited, let him think it's his idea. He'll never suspect it.
Ihesitated before saying, "Let me go talk  to Theresa, to see if she's okay on her own."  She can take care of herself, but that wasn't part of the plan.

"If you're sure you want to do it," Teresa says, "you know where we are."
I start to ask him about it, but he stopped talking, distracted now. I realize with pleasure that he is staring at me, his eyes lingering on my waist, my legs, my chest. He runs his thumb gently along the side of my dress, tracing the curve of my body before guiding me down the spiral staircase to his room. A minimalist iron bed stands alone in the middle of a sparse white room. There is a screen on a wall that is the size of a small cinema. So that's where all your stolen money goes, I guess.

I let out a sigh that is completely genuine as he pushes me back onto the bed and I notice four wide ribbons of black silk tied to the bed frame.
He kisses me  so urgently, holding my thighs in his hands, pressing his body into me that for a second I forget the plan. Every bit of him is hard and strong. I'd be happy to rip off his clothes right then and there, but he stops, reaches out to grab one of the ribbons, and ties my wrists. Oh, God. Talk about a wake-up call. Did I let it go too far?

"What are your fantasies?" he whispers, "I want to know your secrets."
"That," I sigh back at him, despite myself. "I like this one."
He ties my hands to the head of the bed and I am fully aware that he is strong enough to do so without my consent. Then again, I could break those ribbons without a second thought, and besides, I'm completely complacent, biting my lip and staring at it. He lowers his hands to my breasts to feel the hardened nipples climbing up my dress. Ccrawls underneath me, staring at me the whole time before pulling him down on my legs. I'm not wearing a bra and my chest is cheeky, waiting for his touch, but he just stares as he pulls on my lace thong after the dress.  Istand  there, naked, exposed, with him fully clothed, loving every second.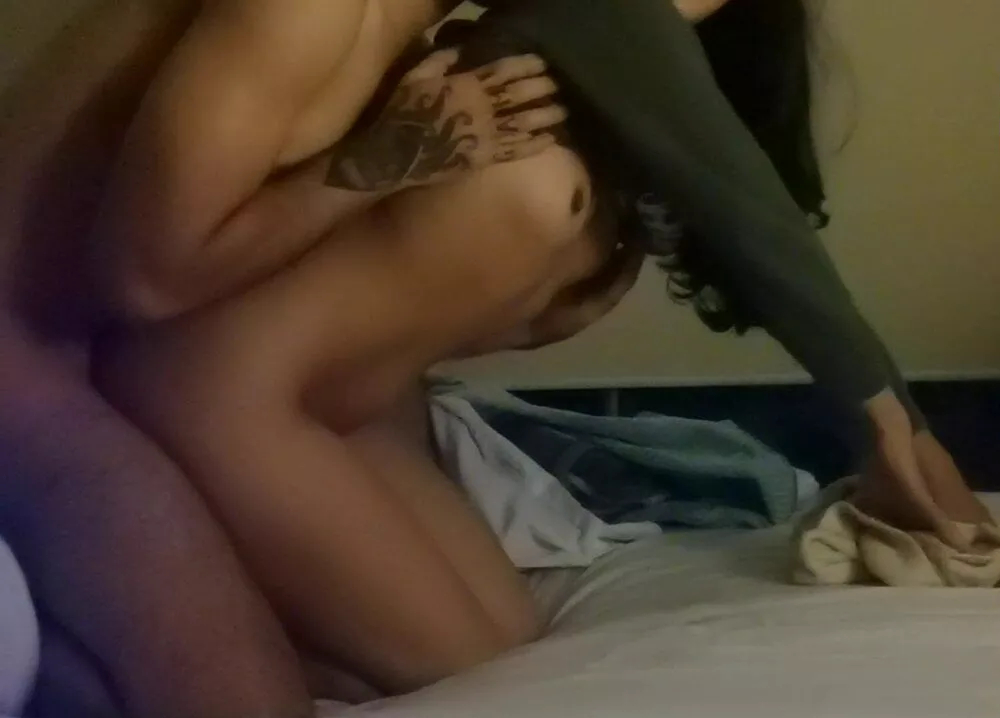 He takes off his shirt and I feel another wave of desire as I stare at his tanned, muscular, hard chest above his bulging jeans. I know this is wrong, but there is no way out. And honestly? I don't want there to be.
He leans over and kisses me, his slightly shaven cheek brushing against me as he licks my left nipple. He takes her right nipple in her hand and rubs it under his thumb as he bites and licks gently, teasingly.
I'm moaning with desire as he slides more fingers inside me, shoving them deep inside my cunt.  I sigh, it's intense, strong.  Ifeel myself  openingup to receive him  and lose all sense of time when he gets inside, stroking my with his thumb. When I climax with a little scream, he pulls his hand away and starts kissing me, from the inside of my legs to my feet.

"I feel open to receiving it. To fuck me."
The sight of him struggling to contain himself, still dressed from the chest down while I'm naked, ready and waiting, is a great excitement. He makes his  way back up to my legs with his mouth. His tongue flickers inside me, stroking, kissing and licking my  as his hands grab my legs and I writhe beneath him, panting in pleasure.
I can't tell you how long this lasts; And I don't want it to stop. Eventually, I'm begging him, begging him to put himself inside me with a voice I don't recognize as mine.
When he finally penetrates me, I lose all sensations beyond his consciousness  filling me,  touching me  in places that seem to have never been touched before.
We climax together and he falls on top of me, sweaty and panting. With my hands and feet still bound, I fall into an exhausted sleep.

….

By the time I put on last night's dress and thin heels, he's already leading me out of the house with a brief goodbye kiss on the cheek.
With his car already out of sight, I head back to the house across the street, where our team is monitoring his every move. They look questioningly, but I say the first word: "Someone better follow him, he's in a big hurry."

"Stayed there all night? Why didn't you turn on the cameras?" asks James, incredulously.
Sorry, James, I was busy having the most mind-blowing sex of my life, I guess.
"I didn't stand a chance, he didn't leave me alone for a second."
Teresa laughs and I look at her.
"He doesn't sleep?" asks James.
"Not a wink, he must have taken something,"  I say.
"Well, do you thinkyou're going to get in there again?"
" I'm sure of it," I reply, with complete sincerity.
"I want to know everything," Teresa hisses, but I ignore her.

I returned to Marco's house, sitting on his marble kitchen counter with him still inside me, having reached a  shuddering orgasm. He pushed my thong aside and his pants below his muscular ass. He had barely offered me a drink before he put me on the counter.
"I'll tell you my fantasy,"I whisper, nibbling on his ear, "I want to do this on camera."
"Get ready then," he demands, lifting me to the ground in his strong brown arms.
I'm kneeling in the  center of his bed in carefully chosen lingerie as he enters the room with a video camera and a tripod. Someone has done this before, I think. .
"It's yourtime," I say, taking off her t-shirt and tying her wrists to the bed. I take off his pants and boxers and feel a shiver of excitement at the sight of him, hard and throbbing again.
I take him into my mouth and run my hand down his  smooth, sculpted chest as I suck and lick that cock all over, feeling myself get more aroused with each of his moans.
When he's on the verge of turning around, I climb  on top of him and  order him to wait, rocking back and forth as he buries me, reaching every hidden spot.
He releases his hands from the tape, gripping my breasts and  moansher, his urgency making me even more aroused. He runs his hands around my waist and moves me up and down at his own perfect pace. Just as I'm about to see myself, he spurts all over in relief and ends up with me, eyes closed.

I may never be able to have sex with Mark Antony again, but at least I can relive it now.



Erotic tales